Join our biggest collective giveback day of the year on Friday, October 20, 2023.
Coffee For a Cure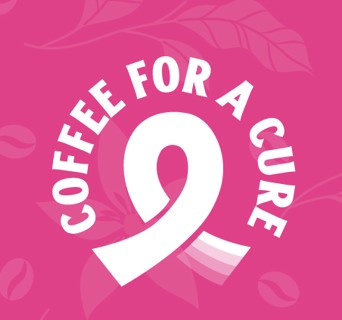 What do coffee and mammograms have in common? On a very special day every October, they both help fight breast cancer.
Over $3 million raised
Now in its 18th year, Coffee for a Cure is able to give hundreds of thousands of dollars each year to local organizations providing treatment and care for people battling breast cancer.
How it Works
On one very special day in October—during Breast Cancer Awareness Month—100% of all sales from The Human Bean locations all around the country are donated to support patients with mammograms, post-diagnosis care and support, and breast cancer education.
"Coffee for a Cure has meant so much. The community came together and supported my family. The eagerness and willingness to support a stranger blew me away. This has opened my eyes and heart to the importance of supporting one another and giving back. This is what a community is for. I am forever grateful for this blessing and The Human Bean!"-Jacqueline Little
About the Cause
According to the American Cancer Society, over 270,000 people will be diagnosed with breast cancer this year. The impact we have on helping the fighters and families is immeasurable, and we couldn't do it without you.
Think Pink
"This day always brings a few tears, smiles, and some very incredible stories. Coffee for a Cure brings hope, strength, and awareness to our communities." - Aly Koehnke, The Human Bean Franchisee