Regular price
Sale price
$14.95 USD
Unit price
per
Sale
Sold out
Roast = Light Ethiopian/Medium Sumatra
Description = Bright, Structured, Round
Origin = 50% Ethiopia/50% Organic Sumatra (Post Roast)
For hundreds of years, people have been enjoying Mocha Java, a blend of coffee from Africa and Asia. Our version is a mixture of our Ethiopia and Sumatra and is notable for its velvety body and dried fruit flavors. It's a stately blend that's deeply tied to the history of coffee. Our Mocha Java coffee blend is post-roast blended. Origins are separately roasted to different specifications, then blended to create this bold-flavored coffee.
We have our own Roaster where all of our coffee is roasted.  We utilize state-of-the-art computer analysis equipment to ensure consistent roasts, batch after batch.
We have a Farm Friendly Direct sourcing program for our coffee.  Our longstanding relationships in coffee communities have helped facilitate several projects at coffee-origin communities.
Our Mocha Java coffee blend is partially sourced from Sumatra.  We source certified organic coffee from a series of family farms in Northern Sumatra. In Sumatra, there are several smaller 2-acre farms spread out over a large territory. To best serve the farmers and communities in this region, we work directly with a local foundation, Yayasan Bani Adam Permata Haiti. This foundation serves to support the broader coffee-growing community represented by the cooperative, PT Indo Cafco.
Partnering with other coffee roasters, we were able to support the Pembangunan orphanage, located in the Aceh Highlands of Northern Sumatra. Civil war and the horrific 2004 Tsunami left many children without parents and support of the orphanage was able to directly benefit the children who needed the help most. The orphanage, a 1000 sq. foot run-down building, housed 25 children. Together, we donated the funds that helped with the rebuilding of the orphanage, and, most recently, we donated school uniforms and supplies. Our goal is to continue to assist farmers and their families in projects that will nurture both our sourcing relationship and serve to benefit their communities for future generations.

*Please note that all coffee purchases are shipped separately from our Apparel, Accessories, Stickers, Gift Cards, and drinkware.

View full details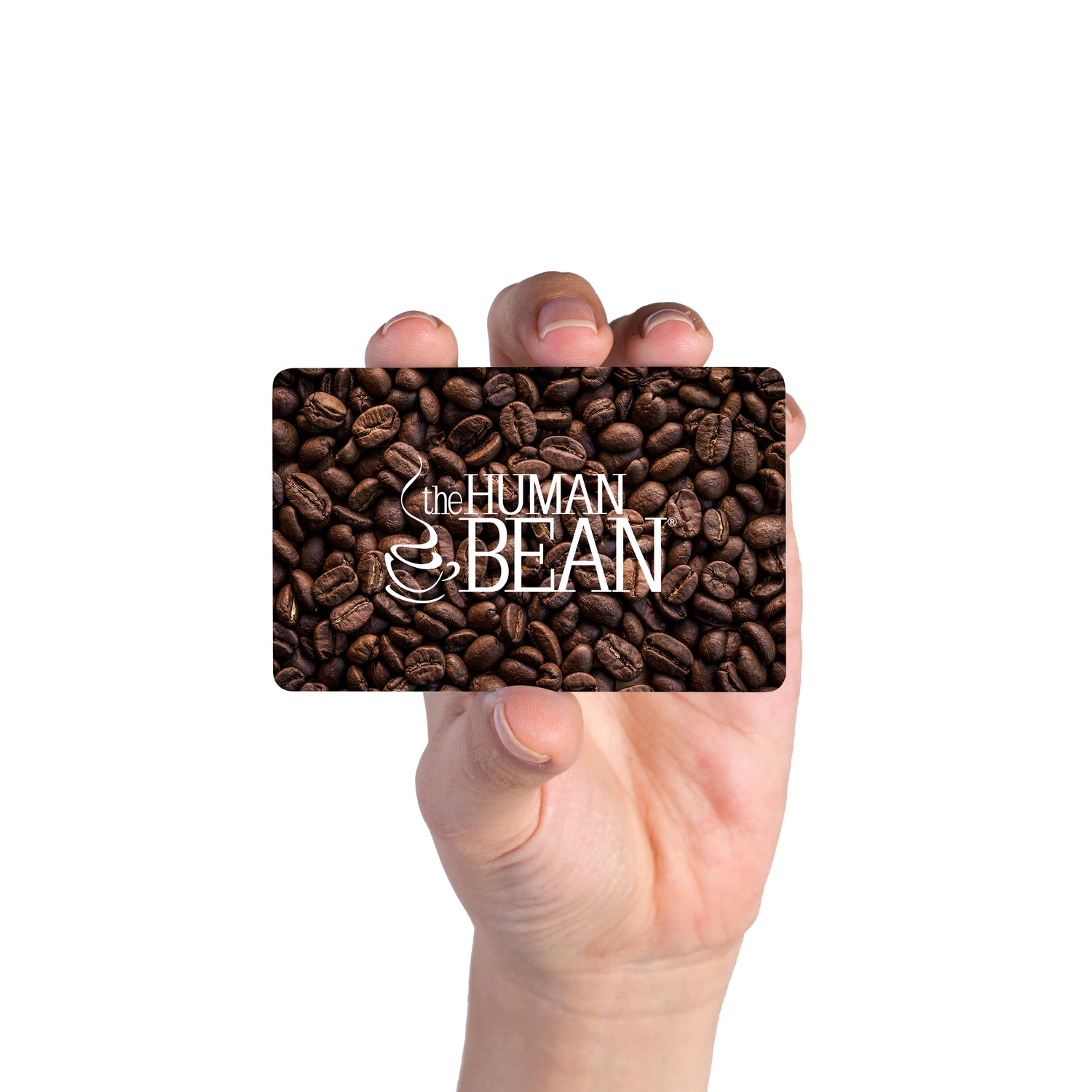 The Human Bean gift card is a great gift! Purchase one for a friend, family member, co-worker or yourself. Simply select the amount. Gift cards can be reloaded at our stores.
Gift Cards